Ronnie Richards
Ronnie Richards
An established carpet installer and family man, Ronnie tragically died of sudden cardiac arrest while playing indoor football at the age of in 2008.
Believing that he could have been saved if only a defibrillator been available in the sports center, along with trained staff, his family created a charity organization that has installed hundreds of defibrillators and trained hundreds more in there use in the years since.
Ronnie loved sport, including cycling and tennis. His most loved sport was football, and he played on several successful clubs from 1976 through 1987. He had experienced loss just before his passing when his brother died from Leukemia in October of 2007.
Ron had been a part of charity support for Leukemia victims and it was widely known that he wanted to expand his efforts before he suddenly passed.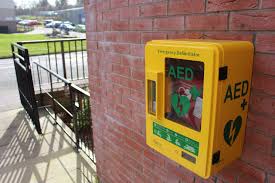 Embracing this challenge, family and friends set up the Ronnie Richards Memorial Charity. This evolved into a joint effort with the local paper and agreements with the suppliers of AED installations to get the best pricing possible, which had real positive results. In November 2017, a girl's life was saved due to the presence of an AED purchased by the charity. Doubtless this made all of the work worthwhile and is the best kind of tribute a man could ask for.